05/10/2023
at 09:00 to 12:25 CEST
online
RESPECT project launch event: Recycling Li-ion batteries for clean mobility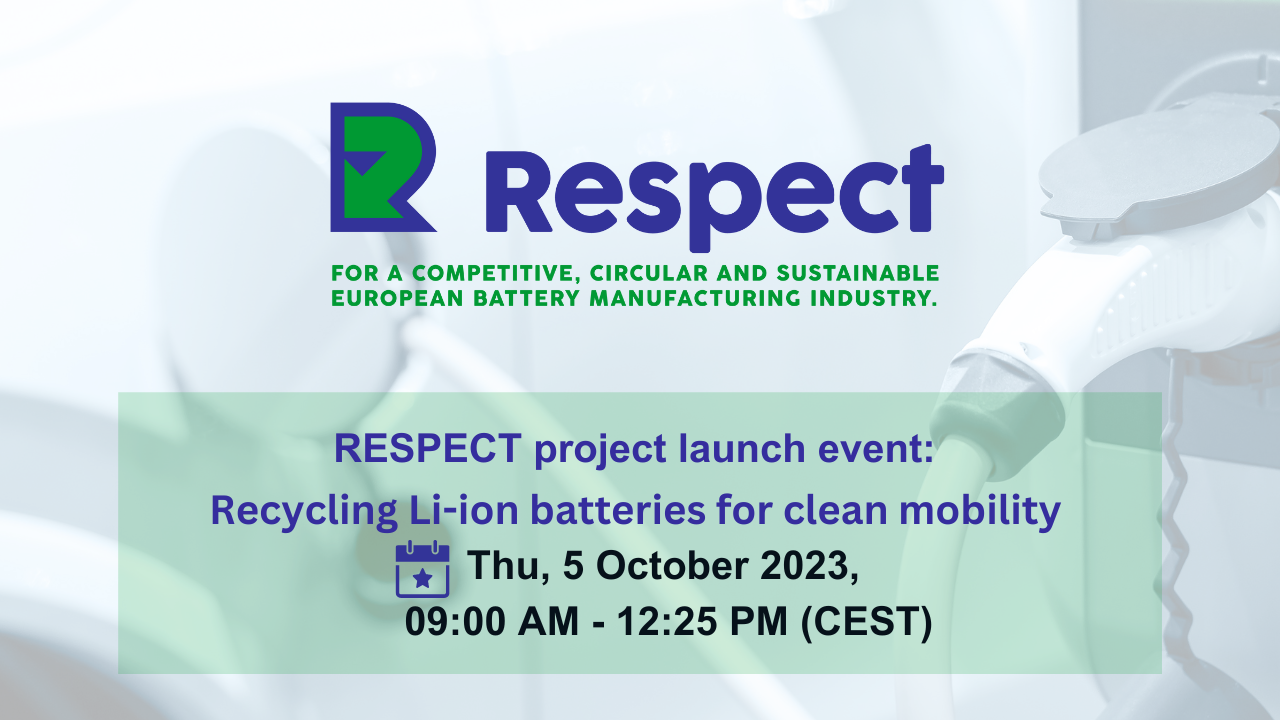 The RESPECT project is already in its first year of development, and to celebrate this important corner stone, they organise a launch event. It is time to introduce the project and discover how the RESPECT project is going to drive a positive change and accelerate the transition towards a cleaner, more sustainable world.
The event will take place online on the 5th of October from 09:00 to 12:25 CEST.
In the framework of the launch event, Batteries European Partnership Association (BEPA) is going to provide a workshop: "Sharing the best practices and common expertise to improve EU-funded R&I projects efficiency and dissemination results". Including 2 fruitful Panel Discussions:
"Lessons learned from other clusters" (Collabat, Solid4B (waiting for confirmation) and Battery heroes)
"Clustering activities for the projects on Sustainable, safe and efficient recycling processes?" (RESPECT, FREE4LIB, RHINOCEROS (waiting for confirmation))
The 3 Panel discussion "How do R&D projects support the creation of the EU battery value chain and the implementation of the new legislative requirements?" will cover several aspects related to the implementation of Battery Regulation.
Project description:
RESPECT project proposes a logistical chain of disruptive, flexible, sustainable and versatile recycling processes that consider the safety aspects of battery opening and deactivation, and utilizes hydrometallurgy or direct recycling, depending on the targeted LIBs to be treated, thereby supporting the next generation of battery materials development.
The vision of the RESPECT project is to contribute to paving the way for increasing global competitiveness, strategic autonomy and circularity of the European battery ecosystem by developing innovative green recycling materials recovery processes, and thus supporting the growing Li-ion battery manufacturing in Europe.